I finally found a cheap and cheerful super thin nail art brush. It's from
Peggy Sage
, a lovely European brand that specialises in nail care. I've had "Fleur Secrète" on for days and despite not wearing any top coat the polish has only chipped the tiniest bit today. Impressive! A few days ago, I decided to test my first nail art brush and painted a few roses on my ring fingers. They're not too bad considering I recycled problematic nail polishes I've had around for
years
, plus it's my first try drawing on my nails freehand.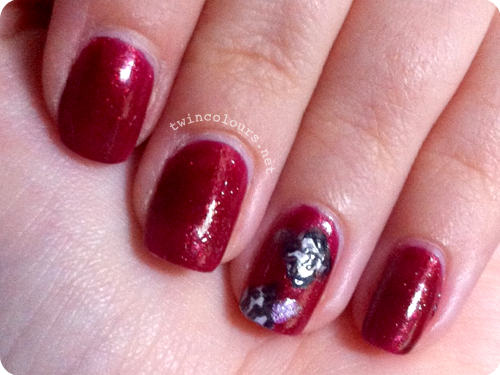 Note the new watermark! Pride!
Base coat: Rimmel London Nail Hardening base coat,
Base colour: Peggy Sage 028 "Fleur Secrète",
Nail art colours: an ancient L'Oréal polish in a silvery white, H&M "Moonless night", and Barry M "Silvery Lilac" for the leaves,
Top coat: none.