Throughout my life, my hair has never been the same. I'm not even talking about simply getting different hair colours and cuts—indeed the texture of my hair changed over the years. As a child, I had dead straight hair, followed by wild curls in my teenage years that I could barely control. Now my hair is back to being straight. Also, I used to be a very dark blonde as a child, which turned into a dark brown (almost black!) and now I'm back to dark blonde (dyed light reddish brown). It's funny how it works. I'm rather nervous thinking about what my hair might turn into once I'm in my thirties…
As pretty much every other woman on the planet, I have tried a variety of shampoos, conditioners, masks and styling products. Not surprising since my hair went from smooth and straight to dry and curly back to straight and sort of smooth. I remember not being able to tame my mane when I was 16, and on most days I looked like a lion (not in a good way).
Luckily, my hair is much easier to handle these days, which is probably why I've let it grow over the past four years. If it was still difficult to deal with, I probably would have chopped it off by now.
So let's talk about how I take care of my hair, i.e. which products I use and love.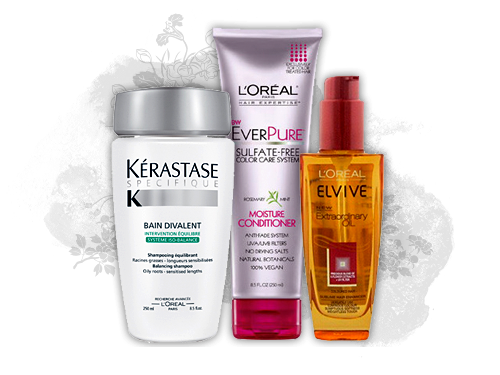 Kérastase Spécifique Bain Divalent

(£13.50),
L'Oré

al EverPure Moisture Conditioner (£5.99),
L'Or

éal Elvive Extraordinary Oil (£9.99).
SHAMPOO:
Until very recently, I used a Herbal Essences shampoo which, it seems, doesn't exist anymore. It was called "Fresh Balance", and while that range still exists I believe that they have changed the formula. Anyhow, it was decent enough, and being a student I felt like I should use it all up before splurging out on something nicer. I eventually treated myself to a lovely Kérastase shampoo, the Kérastase Spécifique Bain Divalent for oily roots and sensitised lengths. Genius, if you ask me! I've only used it a couple of times until now, but it is absolutely gorgeous. The smell isn't too overpowering (I dislike really strong, fruity smelling shampoos) and it leaves my hair feeling wonderful. Definitely worth the £13.50 I paid for it!
CONDITIONER:
I'm ashamed to admit that until recently I didn't use a conditioner. I've used them before, but it just seems to be a step in my beauty regime that I've missed out over the past year or so. My hair didn't suffer too much; while I didn't have the shiniest, smoothest mane, it never looked terrible. However I've become annoyed with having to untangle my long hair for ages after each hair wash, so I decided to give the new L'Oréal EverPure range a go. I went for the L'Oréal EverPure Moisture Conditioner and I'm amazed. I love its natural smell (it's a combination of mint and rosemary) which is so unlike the standard artificial and chemical fragrances. Thumbs up! Brushing out my hair after my shower has become so much easier and my ends look so much healthier.
STYLING:
I avoid using too much stuff on my hair because it goes oily so quickly. I've finally conditioned my hair to a wash-my-hair-and-skip-two-days routine and I intend on sticking to it. It is just so much healthier, and so much less hassle. As a result I only have to style my hair twice a week. All I do is work a little bit of L'Oréal Elvive Extraordinary Oil for coloured hair into my lengths (avoiding my roots by all means) before I blowdry my hair. Then, after I have styled my hair, I work another small amount into my ends to give my hair some extra shine. I like the smell—I'm not crazy about it, but it's nice enough.