A few weeks ago I stumbled upon the claim that it is possible to make your own nail polish by dissolving powder eye shadow in clear polish. I was fascinated, and instantly thought of my favourite eye shadow of all time... I imagined it could look just as amazing on my nails. I was right!
MUA
Shade 12
has been quite popular among bloggers, especially because it is a brilliant dupe
MAC
's
Club
. Even better, the eye shadow is a steal at just £1! Therefore it was the perfect base for my experiment. See for yourself.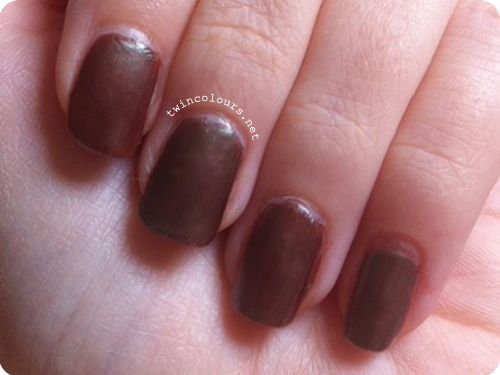 Click on "read more" for instructions!
Grab some eye shadow, and crumble it into fine powder by using anything sharp like a nail file or a needle. I have read that mineral eye shadows work best, but MUA worked perfectly for me.
Take your clear nail polish and pour your powder into it. You may want to use some sort of funnel to avoid a big mess.
Insert a toothpick into the nail polish bottle and stir. You can do the same with the brush.
Now shake. Shake, shake, shake, until all the powder and polish have combined into a glossy liquid!
Tips
If you want a sheer nail polish, simply add less eye shadow. It's a good idea to add the powder in a few steps so you get to the level of opaqueness you want.
You should give the bottle a good shake before every use. The powder does have the tendency to settle at the bottom of the bottle.
I am absolutely in love with my creation. The duochrome effect comes out just as nicely as it does as an eye shadow. I love the fact that I've got a unique new shade (which only cost me £3.99!) that no one else has. Funnily enough, a staff member complimented me on my nails when I went to the bank a few days ago. Result!