Okay, I confess: I am lazy when it comes to taking my make up off. I'm all for grabbing a
Simple Cleansing Wipe
, especially since they are often on offer (3 for £5) and they're just
so
convenient. However, I do realise that these types of wipes can leave some make up residue (waterproof mascara, oh my days!) and aren't the
best
solution to rid your skin of your artwork.
I'm not gonna lie, I still find myself going for a Simple wipe on my really lazy days or when I'm away for the weekend. Nonetheless, I got myself an eye make up remover for the purpose of getting rid of that extra stubborn gel liner and mascara.
Whilst browsing Superdrug a few months ago, I stumbled upon the
Naked Skin Blinking Lovely Eye Make Up Remover
and I was instantly attracted by the product description and the cute packaging.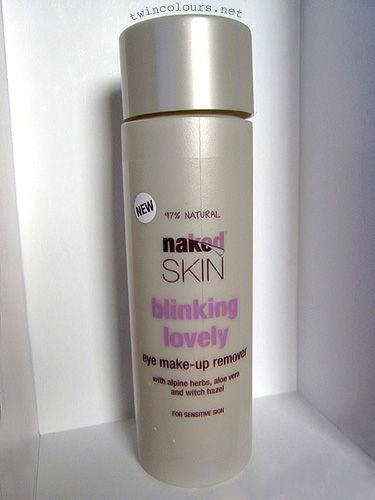 Naked Skin Blinking Lovely Eye Make Up Remover (available here, currently on offer for £2.99)
Naked
claims that
The hills are alive with alpine herbs! These fresh air fanatics tone and refresh tired eyes. Meanwhile witch hazel and aloe vera help to cool (a bit like the T-birds but without the greasiness). Our eye make up remover has been clinically tested for sensitive skin, is dermatologically tested, fragrance free and alcohol free.
How cute is that description? I'm glad to say that it's not just a marketing gag. This product does a great job at removing those traces of mascara. I usually put a generous amount onto a cotton pad, softly press it onto my eye area, wait a few seconds, and then gently wipe my make up off. For eyeliner and mascara left overs, I soak a cotton bud in the product and use it along my lash line.
It really is great for sensitive eyes. I originally bought this product as my eyes were suffering from horrible sore patches caused by the dry winter weather and I didn't want to irritate my skin even more. The
Naked
range almost entirely relies on natural ingredients, in this case alpine herbs, aloe vera and witch hazel—with the exception of preservatives keeping the product from going off all too soon.
So far, so good. I only have one thing to moan about... the
quality of the packaging
. Whilst packing for a weekend away, planning on taking this with me, I thought I'd make sure that the lid was on nice and tight. Unfortunately, I ended up breaking the screw-on bit of the lid, resulting in me not being able to close the bottle properly. Thus, I won't be taking this one anywhere. I did a bit of research and
Naked
admits that 'the appearance of these bottles is slightly flawed; they have a greenish/brown tings and [...] may look poor quality. The truth is quite contrary as recycled materials are a more expensive option and great time and care is taken in sourcing them.'
Fair enough. Maybe I handled the bottle too brutally, but then I'm only a little, weak, 5'2'' girl. Anyhow, I'm marking the product down slightly, which means this one is getting
4 stars
from me.
What do you use to remove your make up? Do you rely on cleansing wipes or make up removers?