Essie
's "Pennytalk" has been on my beauty wish list for quite a while. As I was browsing the web just after Christmas (unwilling to face the sales in town) I thought I'd look for this gorgeous metallic. I got lucky and managed to find "Pennytalk" for £5. What a steal!
Essie "Penny

talk", one coat
"Pennytalk" is an extremely pigmented
copper
. Depending on the light, it appears rose gold. I only needed one coat of this varnish to get good coverage, so I'm impressed.
The thing that bothers me is that it is a little tricky to apply. I thought I'd done a good job until it dried up and looked a bit
streaky
. But maybe I was just too quick... Patience must be the key for this one. Moreover, it already chipped a little the very next day, despite top coat. Not ideal.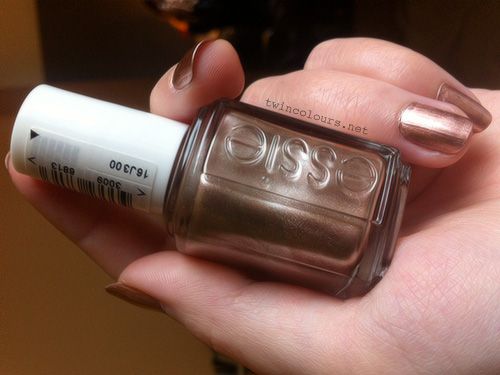 This is my very first Essie varnish, but I am likely to be getting more as I am happy with this one. I thought that "Pennytalk" would make a nice addition to my nail varnish collection because I don't own anything like it. I think the colour works all year round—the metallic shine is gorgeous over the dark winter months, yet it's brightness will also be gorgeous in the summer. Win win.