My dry and flaky winter skin demanded some TLC, so upon reaching December I thought I'd get myself a new moisturiser.
At the time I happened to be Christmas shopping and popped into
The Body Shop
. I stumbled upon the
Vitamin E Moisture Cream
and—admittedly lured in by the pretty pink/black packaging—I thought I'd give it a go.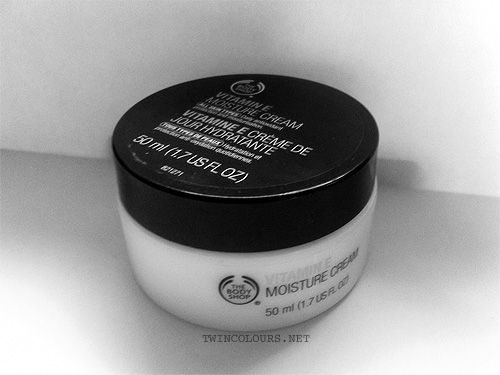 The Body Shop Vitamin E Moisture Cream (50ml), available online.
I really believe that this moisturiser's fragrance is identical to the classic
Nivea Creme
, so I had a nice nostalgic moment when I first opened it. The texture on the other hand is different: slightly lighter, a little less creamy. So far, so good.
The Body Shop describes this product as their 'bestselling daily moisturiser' which 'hydrates skin, leaving it feeling soft and smooth.' Furthermore:
Hydrates and protects
Light and easily absorbed
Leaves skin soft and healthy-looking
The moisturiser does a fairly good job at moisturising, provided that you use it twice a day. My skin tends to get flaky near my hair line and around my nose. At times I'd find myself randomly reapplying some of this a couple of times a day, because it seemed like my flaky patches needed another boost of moisture.
It is relatively light, but not the lightest. It does absorb quickly; in fact you have to move fast if you want to avoid massaging over sticky patches on your face! I find that when I apply it, it absorbs quickly, but
not
easily, if that makes any sense. My skin feels sticky for a minute before it starts to feel soft. Put in simple terms: I find it a little difficult to apply.
I have mixed feelings about this product's moisturising abilities. Applied once a day, it would improve the overall moisture balance of my face, yet not enough to help me get rid of flakiness. Applied morning and night, my t-zone actually started getting a little greasy, which I'm not really a fan of. I'd say that if you have
overall
super dry skin, and love the classic Nivea smell, give this one a go.
Anyhow. Well... it's okay. I honestly don't think it deserves the numerous 5 star reviews on the official website. I am convinced that there is better stuff out there... even if I haven't found it yet. I'm ashamed to admit that moisturisers are usually at the bottom of my beauty priority list so it might be a while until I find my holy grail product. At £10 (£8 in the outlet) I think that this product is a little too pricey. There is nothing too luxurious about it, and it's comparable to drugstore moisturisers.
It's a decent product, but I doubt I will be repurchasing it. Maybe one of the other The Body Shop moisturisers is better suited for me!
Three stars.
*

What's your daily moisturiser, ladies?