I'm back with a BANG! Well, maybe not a bang, but an awesome haul. As I've mentioned, I spent last week with my family on the continent, and ended up spending lots of pennies. Whenever I'm off to Europe I take advantage and check out all the beauty brands that aren't as easily available here in England.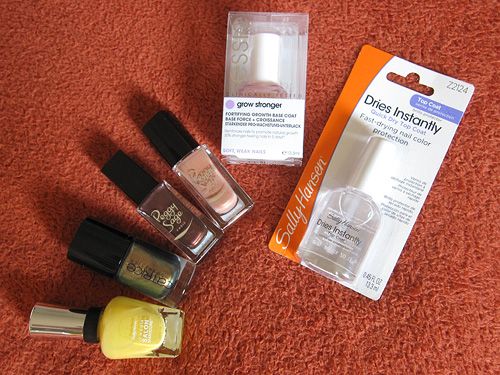 I was quite successful! Successful in this case meaning reckless in my spending.
Now, I hate yellow. Hate it. It just screams 'ugly'. But boy, did I change my mind when I randomly discovered a
Sally Hansen
stand in a German drugstore. This lady here, number
418 'Sun Day'
immediately caught my eye and had to be bought. The polish appears quite pastel-y in the bottle, and since I'm a sucker for pastels and had never tried a Sally Hansen product before, I decided to give this one a go. I haven't tried it out yet—I'd feel weird putting on a yellow polish when the weather is still screaming 'winter!!'—but I'm excited. I can see this paired with nude coloured tops or bottoms in Spring. Oh yes!
Second is
Catrice
's
840 'Genius In The Bottle'
. I'm a big fan of Catrice, a German drugstore brand with a lot of gems in its collection. This one is no exception: it immediately struck me as a
Chanel 'Péridot'
dupe so it had to be bought.
The final two colours I got are
Peggy Sage
's
425 'Palissandre'
, a dark, shimmery, maroon/burgundy colour. Lastly there's number
244 'Savannah Velvet'
(isn't that name just
delicious
?) which I would describe as a nude with a twist. It's nude-y beige with a pink undertone and a very subtle golden shimmer. My brother picked it from the shelf, describing it as a 'Lana Del Rey' colour, so of course I was instantly sold.
My nails have been in a bad condition recently. I've had to deal with splitting, and most of all peeling, which is a very annoying thing to be happening to your nails. As a result, I've had to wear my nails a little shorter than I want to, but I'm hoping that
Essie
's
'Grow Stronger' base coat
will do the trick and revitalise my nails. I will keep you updated!
The last thing I bought is the
Sally Hansen 'Dries Instantly' Top Coat
. I was initially looking for the 'Hard as Nails' Base Coat, but couldn't find it anywhere (does it exist?) but since I'm running low on my
Rimmel
Top Coat, and this one seemed like a bargain at €4.95, I thought why not.
I'm excited to give these babies a go, and I will definitely keep you posted on how I'm getting on!
What's your favourite base coat? What do you do to keep your nails strong?