When will winter finally end?! I've been feeling cold for too long now! I've been dying to put on pastel spring colours on my nails, but looking at the current weather I'd just feel silly. So I grabbed
Topshop's 'Mermaid'
to make that harsh winter a little more bearable/
prettier
.
Pictured above is
Topshop Mermaid
with a coat of
Sally Hansen 'Dries Instantly' top coat
(available
here
for £4.67 plus £2.99 delivery). This picture was taken just after I'd finished painting my nails.
I was instantly in love—the bottle may look a bit cheap and drugstore-y but wow, the brush of this product is incredible! This top coat applied like a dream, and dried a lot faster than my Rimmel top coat. But that's not even the best news. Oh no, this top coat makes your nail varnish last for
at least a week
!
This is a picture of the same hand
after 8 days
:
I hadn't done any repainting or touch-ups because of a busy schedule. I just let it be whilst I went on showering, scrubbing dishes, scraping labels off jars and opening soft drink cans every day. So, I am
really
impressed by this top coat's performance. Just imagine what it would look like if I had actually been
careful
!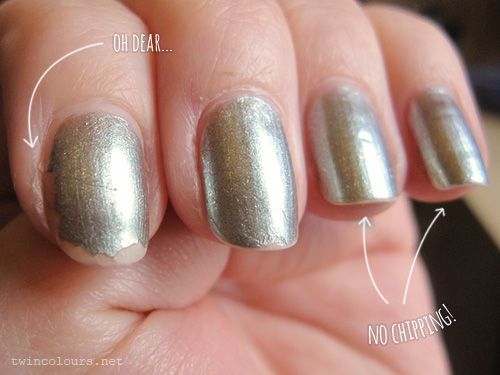 As you can see only my index and middle finger really suffered, whereas ring finger and pinky still look absolutely fine.
I approve, oh I do. This top coat is
a must have
for anyone too busy (or lazy) to paint their nails every couple of days.
Do you have any top coat favourites?