So, some of us here in Britain were blessed with a stunning 14 degrees and gorgeous sunshine yesterday. Luckily, I had bought a lovely new pair of
sunglasses
a while back in anticipation.
Last year, I was stupid enough to lose my favourite pair of sunglasses: my beloved
Ray Ban Clubmasters
. I cried. Oh yes, I did. I was planning on replacing them as soon as possible, but I'm a student now and money is always tight. I can't spare £130!
I was over the moon when I found a very good quality duplicate in Europe for €60. Keeping in mind that it'll be a while until I can afford to replace my originals, I decided to go for it. No regrets, because I
do
really like them!
Now the Clubmaster trend has been around for a while, but it is just such a classic and therefore still wearable. It's no surprise then that virtually every British high street store is selling some funky
Ray Ban Clubmaster
duplicates. Have a look at
my picks
!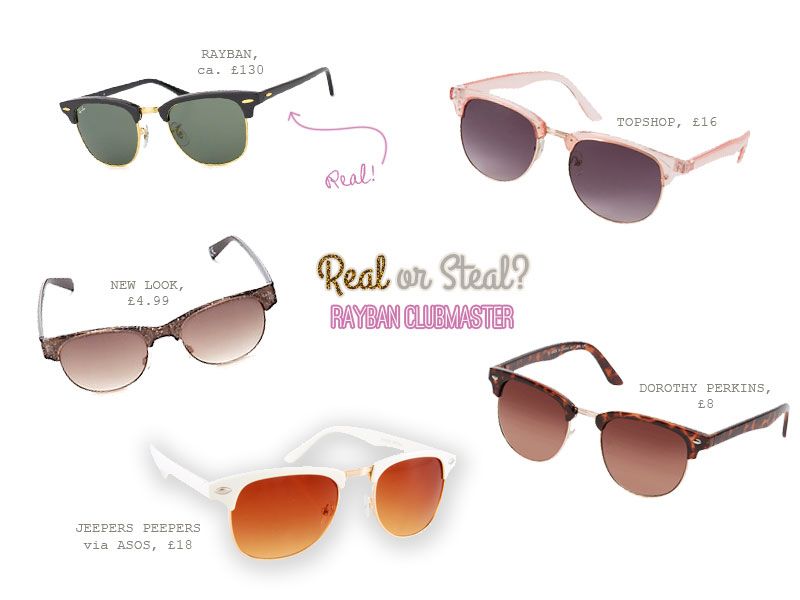 Whether you want to go for the classic tortoise shell/black Clubmaster look or something a bit trendier is up to you.
Which shades will you be wearing this Spring and Summer?